LIFTING UNIT SELECTION
'M' Range Data
Max Motor Powers (kW) at 50hz
MS1 & MK1
MS2 & MK2
MS4 & MK4
MS8 & MK8
Single Speed Hoist
2.9
5.8
11.6
23
Dual Speed Hoist
2.9/0.9
5.8/1.9
11.6/3.9
23/7.66
Single Speed Travel (Hoist)
0.37
0.55
2 x 0.55
-
Dual Speed Travel (Hoist)
0.37/0.09
0.55/0.14
2 x 0.55/0.14
-
Single Speed Travel (Crab)
0.37
0.55
1
2 x 1
Dual Speed Travel (Crab)
0.2/0.07
0.37/0.12
1/0.25
2 x 1/0.25
Recommended Fuse Size for 415 volt Mains supply
25A
35A
63A
80A
Having determined the Group of Classification 'M' in conjunction with the safe working load and range of lift, the correct hoist can now be selected.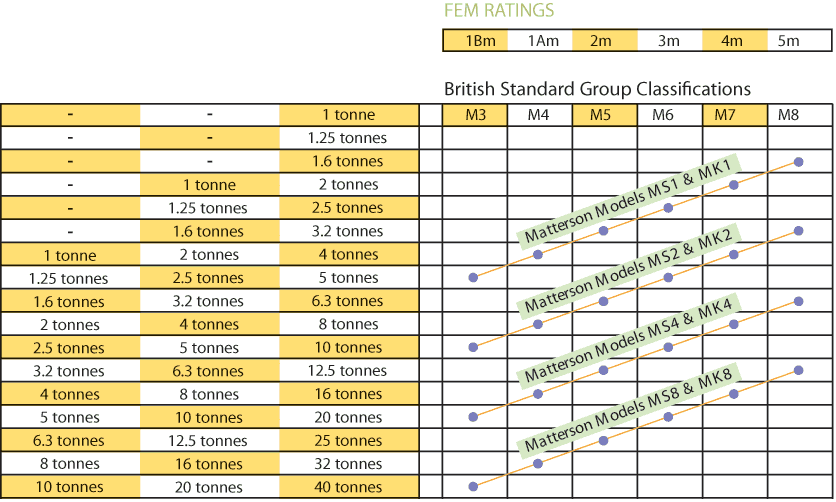 Clients reference list (abridged)
ELF (Girassol FPSO), TOTAL (Abu Dhabi), Brown & Root (Terranova FPSO), Whessoe (STATOIL), SHELL (Sabah) , Petronas Carigali (Resak), Asia Pacific, Kvaerner (Elgin-Franklin), Bechtel (Reliance), Hyundai (ONGC), SPHERE (Galaxy III), AMEC (BP Grangemouth), Chevron (Britannia), NODECO (Hibernia), STATOIL (Troll), ONGC (Neelam), Humphreys & Glasgow (BP Miller), Foster Wheeler (Scott), Shell (Maui), Kellogg, Phillips (Southern Gas), Tecnimont (Saudi Arabia), Hyundai (Weizhou), Rohm & Hass (Grangemouth), Amerada Hess, Mathew Hall (Kittewake), MOBIL (Camelot), McDermott (Lancelot), Smedvig (West Omikron), Santa Fe (Galveston Quay), Petroleus (Mexico), Chicago Bridge.

Illustrations and specifications may be changed without notice and are intended for guidance only. Please consult us for current product details.