EXPLOSION PROOF EQUIPMENT
PCT GROUP LTD has one of the widest ranges of

materials handling equipment for hazardous area operation in the world. With over 100 years combined experience in manufacturing Wire Rope Hoists, Chain Hoists and Special Application Cranes, we are uniquely placed to tailor our equipment to your requirements. PCT manufactures complete BOP handling systems and gantry cranes for offshore installations, refineries and chemical plants. We are also specialists in the field of LNG pump handling systems where we can supply Jib, Goliath and Runway systems.
MATERIALS HANDLING FOR HAZARDOUS ZONES
Wherever the possibility of explosion exists there is a requirement for safe lifting and electrical equipment. The specification is selected by taking into consideration "the probability of the occurrence of a explosion", this probability being divided into hazardous zones, outlined as follows:
ZONE 0:
Area in which an explosive gas is
present under normal circumstances.
ZONE 1:
Area in which an explosive gas could be
present under normal circumstances.
ZONE 2:
Area in which an explosive gas would
not normally be present, or would only
be present for short periods.
Once the danger has been determined it is possible for the user to define the exact and safe equipment to be used, the applicable design regulations being CENELEC (European Commission for Electrotechnical Standardisation), European Norms, DIN EN 50014-50020. Such equipment can be marked as follows: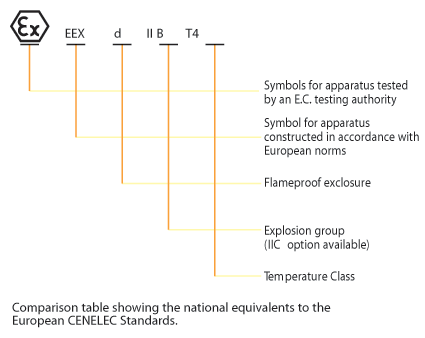 Explosive gases and vapours are classified in explosive groups and temperature classes according to their explosive energy and ignition characteristics.
Temperature
Class
T1
T2
T3
T4
T5
T6
Max. Surface
Temperature
450ºC
300ºC
200ºC
135ºC
100ºC
85ºC
Gas
Groups

Typical
1
11A
11B
11C
Methane
Propane
Ethylene
Acetylene
Hydrogen
FLAMEPROOF COMMUNITY MARK
This is issued to indicate compliance with the
CENELEC/EURONORM standard
European
CENELEC
Standards
EN 50014
General
Regulations
EN 50018
Flameproof
enclosure "d"
EN 50019
Intrinsically
safe "e"
Germany
VDE 0170-0171
Teil 1/5.78
DEN EN 50-014
VDE 0170-0171
Teil 5/5.78
DEN EN 50-018
VDE 0170-0171
Teil 7/5.78
DEN EN 50-020
Belgium
NBN C 23-001
NBN C 23-103
NBN C 23-101
Denmark
SSR-AFSNIT 50
SSR-AFSNIT 50-4
SSR-AFSNIT 50-6
France
NF C 23-514
NF C 23-518
NF C 23-520
Italy
CEI 31-8
CEI 31-1
CEI 31-9
Holland
NEN EN 50-014
NEN EN 50-018
NEN EN 50-019
U.K.
BS 5501 PART 1
BS 5501 PART 5
BS 5501 PART 7
Illustrations and specifications may be changed without notice and are intended for guidance only. Please consult us for current product details.